Type:
Apartments & Rooms
Region:
Macedonia
Prefecture:
Pieria
City:
Leptokarya
Address:
Leptokarya
Telephone:
23520.33.042
Fax:
23520.33.070, 6976.153.360
Category:
3
Rooms:
9
Period:
3-11
Beds:
27
Benefits:
Website:
Click Here to see the Official Web Site.
Offers:

-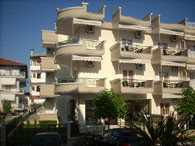 Our lodging is in one of the most beautiful locations of Greece, in Leptokarya.
Irida Apartments is a family business and belongs to the category of three keys, thus ensures you a comfortable and relaxing holiday in our equipped apartments.
Access
Interesting spots
Information