Type:
Apartments
Region:
Ionian Islands
Prefecture:
Corfu
City:
Kontokali
Address:
Κοντόκαλι
Telephone:
(+30) 26610.91.294, 6932.028.240
Tel or Fax:
(+30)
Category:
2K
Rooms:
9
Period:
4-10
Beds:
28
Facilities:
ΕΟΤ ID
Website:
Official Web Page.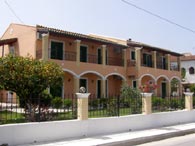 Stavros Apartments is a small family run business where you can feel just like home.
Set amidst a pleasant surrounding, the apartments are located in Kontokali, next to the famous Marina of Gouvia, in the northern part of Corfu, just 7 km away from the town.
Find us.
Point of interest
Information