Type:
Hotels
Region:
Macedonia
Prefecture:
Halkidiki
City:
Ierissos
Address:
Ierissos
Telephone:
(+30) 23770.22.577. 2377.110.117
Tel or Fax:
(+30) 2377.110.204
Category:
1
Rooms:
21
Period:
4-10
Beds:
48
Facilities:
ΕΟΤ ID
0938K011A0250200
Website:
Official Web Page.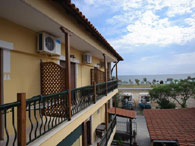 At the beautiful area of Ierissos you will meet hotel "Alkionis", a nice and prim cluster with spacious and comfortable rooms that will turn
your vacations to an unforgettable experience.
Find us.
Point of interest
Information