Type:
Traditional Guest House
Region:
Peloponnese
Prefecture:
Achaia
City:
Kalavrita
Address:
Καλάβρυτα
Telephone:
(+30) 26920.29.029, 6987.619.140
Tel or Fax:
(+30)
Category:
3K
Rooms:
10
Period:
1-12
Beds:
22
Facilities:
ΕΟΤ ID
Website:
Official Web Page.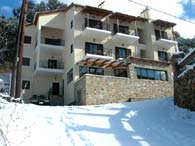 Amadriades, is just 200 Klm. far from Athens ahd 77 Klm. far from Patras. This recently-built hostel, lies in Kalavryta, on a location where the view is wonderful and fantastic.
Find us.
Point of interest
Information