Type:
Hotels
Region:
Thessaly
Prefecture:
Magnesia
City:
Volos
Address:
ΞœΞ±ΞΊΞ΅Ξ΄ΞΏΞ½Ξ―Ξ±Ο' 40
Telephone:
(+30) 24210.64.988, 24210.85.089
Tel or Fax:
(+30)
Category:
1
Rooms:
13
Period:
1-12
Beds:
21
Facilities:
ΕΟΤ ID
Website:
Official Web Page.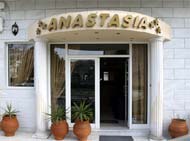 At the centre of Nea Ionia of Volos, opposite the Holy Temple of Evaggelistria, the hotel "Anastasia" welcomes you in a clean and friendly frame. The fully innovated hotel is ideal to serve the needs of any visitor.
Find us.
Point of interest
Information