Type:
Hotel Apartments
Region:
Ionian Islands
Prefecture:
Zakynthos
City:
Korithi
Address:
Κορίθι
Telephone:
(+30) 26950.31.154, 6955.191.850
Tel or Fax:
(+30) 210.52.43.140
Category:
2
Rooms:
15
Period:
6-9
Beds:
30
Facilities:
ΕΟΤ ID
Website:
Official Web Page.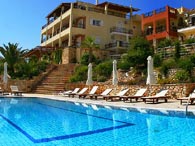 Lithies Studios - Apartments is situated in a place of serene beauty and tranquillity on the northern tip of Zakynthos in the region of Skinari not far from the landmark lighthouse.
This charming, peaceful haven is set in an undisturbed rural location with magnificent views over the Ionian Sea, lighthouse and nearby island of Kefalonia.
Find us.
Point of interest
Information