Type:
Tourist Furnished Residences
Region:
Thessaly
Prefecture:
Magnesia
City:
Trikeri
Address:
Μύλος
Telephone:
(+30) 24230.91.032, 6932.977.206
Tel or Fax:
(+30) -
Category:
-
Rooms:
8
Period:
1-12
Beds:
23
Facilities:
ΕΟΤ ID
Website:
Official Web Page.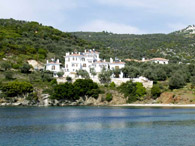 Hotel Argo-Mythos located in a beautiful and picturesque village Trikeri, just a breath away from the blue sea.
These nine apartments equipped with all necessary facilities for a relaxing and enjoyable holiday.
Find us.
Point of interest
Information