Type:
Traditional Hotels
Region:
Aegean Islands
Prefecture:
Chios
City:
Vessas
Address:
Βέσσα
Telephone:
(+30) 22710.73.080, 6973.313.154
Tel or Fax:
(+30) 210.61.30.881
Category:
3
Rooms:
6
Period:
1-12
Beds:
16
Facilities:
ΕΟΤ ID
Website:
Official Web Page.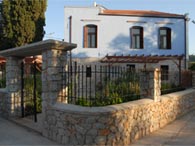 Hotel Inathe is located in the north-west part of the village and is most easily approachable by car. It is comprised of two different buildings the "Neocalssiko" built in 1880 and the "Kamarospito" built around 1750. Both have been restored according to their original style and are located 60 m. apart.
Traditional hotel Inathe is located in Vessa, one of the medieval villages of Chios island with characteristic stone-made buildings.
Find us.
Point of interest
Information