Type:
Apartments & Rooms
Region:
Peloponnese
Prefecture:
Lakonia
City:
Elafonisos - Elafonissos
Address:
Elafonisos
Telephone:
(+30) 6978.652.519, 27340.61.191
Tel or Fax:
(+30)
Category:
-
Rooms:
10
Period:
6-9
Beds:
0
Facilities:
ΕΟΤ ID
Website:
Official Web Page.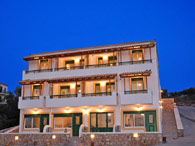 Niriides offers guests comfort and the opportunity to relax both their body and spirit after a day in the hot Aegean sun. Even after their departure, guests retain a vivid memory of the beautiful surroundings, the sense of relaxation and the hospitality of the hosts.
Find us.
Point of interest
Information