Type:
Apartments
Region:
Peloponnese
Prefecture:
Lakonia
City:
Elafonisos - Elafonissos
Address:
Elafonisos
Telephone:
(+30) 27340.61.093, 6994.741.991, 6978.596.133
Tel or Fax:
(+30) 27340.61.093
Category:
-
Rooms:
15
Period:
1-12
Beds:
-
Facilities:
ΕΟΤ ID
Website:
Official Web Page.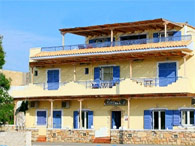 The Coralli is a mini complex of rooms at the beautiful and scenic Elafonissos.
It is located on the seafront and overlooks the opposite shores of Gytheion and Mani.
Find us.
Point of interest
Information