Type:
Apartments & Rooms
Region:
Peloponnese
Prefecture:
Lakonia
City:
Elafonisos - Elafonissos
Address:
Ελαφόνησος
Telephone:
(+30) 27340.61.314, 6983.555.515
Tel or Fax:
(+30)
Category:
-
Rooms:
3
Period:
5-10
Beds:
9
Facilities:
ΕΟΤ ID
Website:
Official Web Page.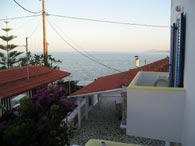 Welcome to Evelin Apartments ... The apartments are located just a few meters from the picturesque harbor of Elafonissos, within the settlement and onto the road that leads to Virgin Mary's Islands and the beach, overlooking the coasts of Gythion and Mani and almost the whole Laconic Gulf.
Find us.
Point of interest
Information