Type:
Rooms
Region:
Peloponnese
Prefecture:
Lakonia
City:
Elafonisos - Elafonissos
Address:
Elafonisos
Telephone:
(+30) 27340.61.325
Tel or Fax:
(+30) 6978.593.987, 6977.472.187
Category:
2K
Rooms:
9
Period:
4-9
Beds:
-
Facilities:
ΕΟΤ ID
Website:
Official Web Page.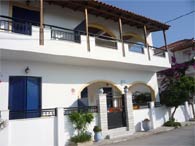 The complex of rooms Gialos I is located just beside the sea, offering a unique view to visitors. Just a few meters from the centre and 4.5 km and 5 minutes drive from the famous beach of Simos and Panagia.
Find us.
Point of interest
Information