Type:
Rooms
Region:
Ionian Islands
Prefecture:
Lefkada
City:
Drimonas Lefkada
Address:
Δρυμώνας
Telephone:
(+30) 26450.99.258, 6975.203.832, 6975.913.447
Tel or Fax:
(+30) -
Category:
3K
Rooms:
6
Period:
5-10
Beds:
16
Facilities: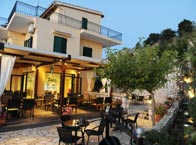 On the west coast of the island, 17km. from Lefkada town is located, perched on a verdant hillside, one of the most picturesque villages of Lefkada, Drimonas.
There, we have created, with love and care, a great place for those seeking a pleasant and relaxing holiday.