Type:
Rooms
Region:
Macedonia
Prefecture:
Halkidiki
City:
Neos Marmaras
Address:
Neos Marmaras
Telephone:
(+30) 23750.72.901, 6944.303.907
Tel or Fax:
(+30) -
Category:
3K
Rooms:
9
Period:
4-11
Beds:
18
Facilities:
ΕΟΤ ID
09.38.Κ.12.3Κ.06603.12.01
Website:
Official Web Page.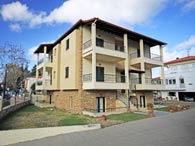 Studios Lamprinos are located in Paradise area in Neos Marmaras of Halkidiki, just 50 meters from the namesake awarded with blue flag beach. The complex has been recently constructed in order to offer its services and amenities to all those who want to visit it!
Find us.
Point of interest
Information