Type:
Hotels
Region:
Cyclades Islands
Prefecture:
Kythnos
City:
Kythnos
Address:
Κύθνος
Telephone:
(+30) 22810.31.672, 6972.020.261
Tel or Fax:
(+30)
Category:
3
Rooms:
12
Period:
3-11
Beds:
35
Facilities:
ΕΟΤ ID
Website:
Official Web Page.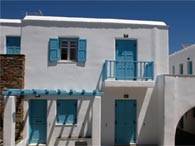 Seven kilometers from the port of Mericha is the traditional settlement of Chora.
There lays the hotel'' Hotel Messaria'' ,completed in 2012.