Type:
Hotels
Region:
Sterea Ellada
Prefecture:
Fthiotida
City:
Lamia
Address:
41 Kapodistriou str.
Telephone:
(+30) 22310.21.600
Tel or Fax:
(+30) 22310.31.476, 22310.21.601-2
Category:
2
Rooms:
39
Period:
1-12
Beds:
74
Facilities: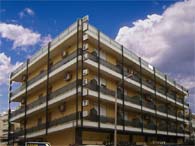 The hotel "Delta" is two stars hotel, recently updated (2002). It allocates 39 rooms, all with air conditioning because his place, it is the ideal place of stay for the visitors.