Type:
Hotels
Region:
Piraeus - Saronic Islands - Trizinia
Prefecture:
Aegina
City:
Agia Marina
Address:
Αγ. Μαρίνα
Telephone:
(+30) 22970.32.202, 6944.733.962
Tel or Fax:
(+30) 22970.32.144
Category:
2
Rooms:
27
Period:
4-10
Beds:
53
Facilities:
ΕΟΤ ID
Website:
Official Web Page.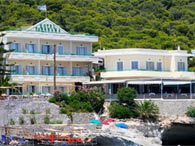 Hotel Panorama, is a family hotel right above the sea. It is located to Agia Marina inAegina, only 2 min. away from the town.
The hotel has been recently renovated and all the rooms have got marvellous view to the golf of Agia Marina.